I'm linking up with
Lauren
for High Five for Friday!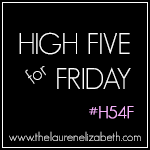 1. Homemade frappucinos that turned out to be amazing! Recipe coming next week.
2. This little girl didn't have a human to cuddle with, so I found her snuggled up to the stairs.
Poor thing.
3. Cleaned my whole house and didn't use a single chemical thanks to Young Living essential oils.
4. Reading a really great book called 7 by
Jen Hatmaker
. It's about how she took 7 months to rid her life of excess in 7 different areas to make more room for Jesus and His Kingdom in her life. She is hilarious and her story is very compelling.
5. We have plans to eat barbecue twice this weekend. TWICE. Which pretty much means this is going to be the best weekend ever.
What were your top 5 things from this week? Link up with Lauren or leave a comment!